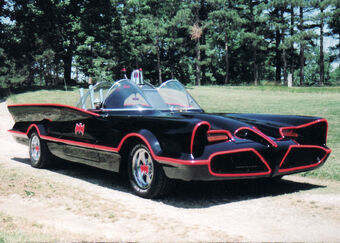 The Batmobile from the 1966–1968 live action adaptation of the Batman comics was one of many versions of Batman's vehicle which he pilots.
The Batmobile appears in the Racetrack scene, where it performs well, until it is hit by Aech's Bigfoot monster truck, whilst the Batman theme is heard.
Appearance
The car is based on a concept car promoted by the Ford Motor Company as the Lincoln Futura. It has red lines with a black color, with the Batman logo imprinted on its side.
It is one of the many cars participating at the Copper Key race. It performed well as mentioned before King Kong destroyed the train bridge, which caused it to slide, whilst playing the Batman theme, but was pushed by the monster truck Bigfoot, piloted by Aech.
Community content is available under
CC-BY-SA
unless otherwise noted.