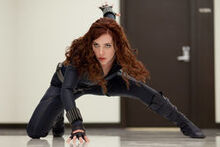 Natalia Alianovna "Natasha" Romanoff, better known as Black Widow, is one of the best spies and assassins in the entire world and a founding member of the Avengers.
For the origin of this character, see Black Widow on Marvel Database.
Appearance
She can be seen at the Oasis Nightclub along with Hawkeye.