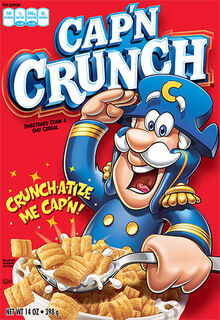 Cap'n Crunch is  a product line of corn and oat breakfast cereals introduced in 1963 and manufactured by Quaker Oats Company, a division of PepsiCo since 2001. Crunchatize me captain
Appearance
However since the Jade Key challenge in the movie is The Shining challenge, the Captain Crunch only appears in Jade Key challenge in the book not the movie. The Captain Crunch Cereal Box is filled by a whistle toy that similar to this poet:
The Captain conceals the Jade Key in a dwelling long neglected But you only can blow the whistle  Once the trophies are all collected  
 In the Film a Halliday Scholar can be seen examining a Photo Of a Cap N Crunch Bubbleyum Cereal Box On His Computer.  
The Same Box appears on a shelf when Wade is choosing outfits in the Garage.