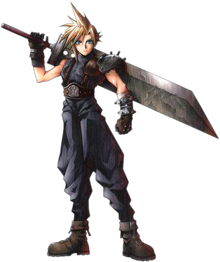 Cloud Strife is the protagonist in Final Fantasy VII and Final Fantasy VII: Advent Children, and also appears in the spin-off games of the Compilation of Final Fantasy VII, including Dirge of Cerberus -Final Fantasy VII- and Crisis Core -Final Fantasy VII-, as a supporting character. He is to be the main character again for Final Fantasy VII Remake.
An arrogant and proud swordsman at first, Cloud introduces himself as a former member of an elite warrior unit called SOLDIER who has turned mercenary, and uninterested in anything beyond his hired task at hand. He later discovers the truth about his past and, with the help of his friends, learns there is more to being a hero than possessing physical strength and fame, developing compassion for the world and people he fights to protect.
Appearance
He can be seen in the final battle.