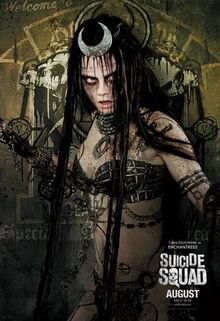 The Enchantress is the main antagonist of the 2016 Warner Bros superhero film Suicide Squad, the third installment of the DC Extended Universe.
She is a powerful sorceress that is possessing archaeologist Dr. June Moone, who is also the love interest for Colonel Richard "Rick" Flag Jr. She seeks to create a weapon of mass destruction to reclaim the world for her and her brother, Incubus.
She was portrayed by Cara Delevingne in her first villainous role.
Appearance
She can be seen during the final battle.