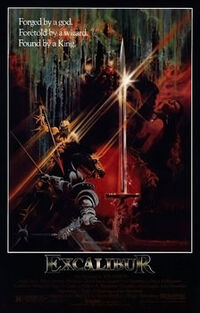 Excalibur is a 1981 dramatic fantasy film directed, produced and co-written by John Boorman that retells the legend of King Arthur and the knights of the Round Table. Based solely on the 15th century Arthurian romance, Le Morte d'Arthur by Thomas Malory, Excalibur features the music of Richard Wagner and Carl Orff, along with an original score by Trevor Jones. It stars Nigel Terry as Arthur, Nicol Williamson as Merlin, Nicholas Clay as Lancelot, Cherie Lunghi as Guenevere, Helen Mirren as Morgana, Liam Neeson as Gawain, Corin Redgrave as Cornwall, and (then relatively unknown) Patrick Stewart as Leodegrance. The film is named after the legendary sword of King Arthur that features prominently in Arthurian literature.
Excalibur achieved moderate box office success while receiving mixed reviews. Although film critics Roger Ebert and Vincent Canby criticized the film's plot and characters they, along with other reviewers, praised it visually. Excalibur opened at number one in the United States, eventually grossing $34,967,437 on a budget of around USD $11 million, to rank 18th in that year's receipts.
Ready Player One
In the OASIS when Parzival is searching the Tomb of Horrors, he finds a +3 Full plate armour. When he puts it on, he remarks that it reminds him of "the bad-ass Armour worn by the knights in Excalibur."
Also, on the Planet Syrinx, in the Hidden Chamber of the temple, there is a 1974 Gibson Les Paul embedded neck first in a stone along the north wall. Parzival claims the guitar in a manner reminiscent of Arthur taking the sword in the movie.
Community content is available under
CC-BY-SA
unless otherwise noted.