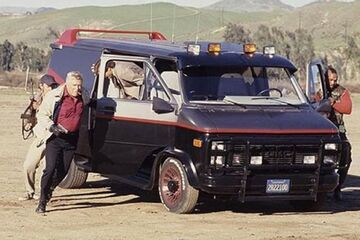 The
1983 GMC Vandura
first appeared in the classic TV show
The A-Team
. It is B.A. Baracus (one of the main characters of the show)'s personal van, in which in the show he states he only drives it.
The A-Team van has become an enduring pop culture icon.
Appearance
The van is known for it's unique red spoiler, its grey upper half, with a red line, lower half in black, unique red rims and four headlights, two in white and two in orange.
As Parzival enters the New York City Racetrack, the famous van is noticeble, starting on the fifth row of the race, standing next to Christine a row ahead. As the race begins, it immediately crashes a Sixer car into the fencing of the bridge where it takes the left lanes to the race. Unfortunately, the van is caught in a fenced lane, where a trap rest, and thus, the van goes backwards and crashes, though it is not seen.
It reappears when Parzival re-races and beats the race and earns the first key.
Community content is available under
CC-BY-SA
unless otherwise noted.