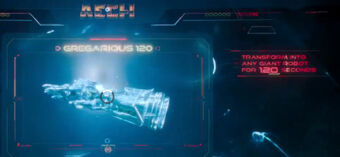 Gregarious 120 is an artifact with a level of 99. It gives its owner the ability to turn into any giant robot of their choosing for 120 seconds (two minutes).
Film
In the opening scene, a massive death match is fought on Planet Doom for the artifact with players including Aech, Daito, Sho and Wade Watts' aunt's boyfriend Rick who spent all of their house money to buy upgrades to prepare for the fight. Rick gets zeroed out, something he blames on Wade's faulty gloves. Aech is here when Parzival contacts him looking for Aech to join him in trying the first challenge of Halliday's Easter Egg Hunt at the Racetrack. The Gregarious 120 is ultimately acquired by Daito.
During the final battle outside of Castle Anorak on Planet Doom, Daito uses the Gregarious 120 to turn into Gundam in order to battle Nolan Sorrento's Mechagodzilla. Daito succeeds in inflicting heavy damage to Mechagodzilla, but times out before he can destroy the robot and reverts to his usual avatar. Daito is subsequently zeroed out by Mechagodzilla's fire breath, but his attack gives Aech as The Iron Giant the time to recover and attack again with the help of Art3mis, destroying Mechagodzilla.
Community content is available under
CC-BY-SA
unless otherwise noted.