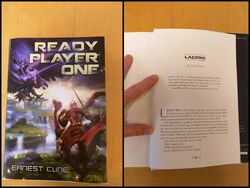 "

You seek solutions to the gates,
But know you what reward awaits?
Like Kirk, Scott, and Chekov, too
The genesis is all for you

"
Lacero is a short story about Nolan Sorrento set within the OASIS universe, written by Andy Weir—the bestselling author of The Martian. Originally written as a fanfiction, the author published it online for all fans to see. However, Ernest Cline read the fanfiction and decided that the work would officially become "canon" and included at the end of the Subterranean Press version.[1]
The story tells an origin tale of Nolan Sorrento and why he decided to join IOI. It can be read online on Galactanet.
Plot
Appearances
Characters
Locations
Gygax

Cloud Cuckoo Land

Mount Shasta
Pop culture references
Books
Characters
Marty McFly (Back to the Future)

James T. Kirk

(Star Trek)

Montgomery Scott

(Star Trek)

Pavel Chekov

(Star Trek)
Events
Films
Back to the Future

Star Trek III: The Search for Spock
People
TV Shows
Vehicles
Eagle Transporter

(Space: 1999)

DeLorean time machine

(Back to the Future)
References