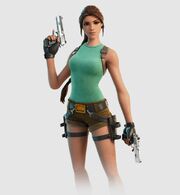 Lady Lara Croft is the daughter of the late Richard Croft and Lady Croft, the Earl and Countess of Abbington.
Following her mother's death in 1976, Lara became the heir-countess, and following her father's believed death on May 17, 1978, became the owner to the Abbingdon Estate in Buckinghamshire, England.
She became like her father, an archaeologist, on the trail of mythological artifacts which she donated to the British Museum. Lara hired computer technical wiz, Bryce, who worked for her at the Croft Estate as her technical assist. Bryce took up residence in a caravan in the front courtyard of the manor.
Appearance
Lara Croft appears during the

Copper Key Race

driving the Killing Plymouth Fury from Christine.
Lara Croft makes her second appearance in the crowd of fans that swarm Wade at Halliday Journals.
Lara Croft makes her third appearance ordering a drink at the Distracted Globe bar when Art3mis comments On Wade's suit.
Lara Croft makes her final appearance during the Battle Of Planet Doom in Tracer's Clan.