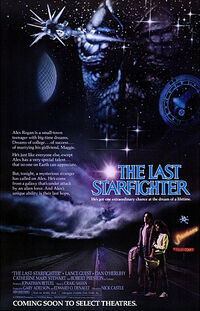 The Last Starfighter is a 1984 science fiction adventure film directed by Nick Castle. The film tells the story of Alex Rogan (Lance Guest), an average teenage boy recruited by an alien defense force to fight in an interstellar war. It also featured Dan O'Herlihy, Catherine Mary Stewart, Robert Preston, Norman Snow and Kay E. Kuter.
In Ready Player One, Wade uses a line from the movie as his pass-phrase to log in to the OASIS: "You have been recruited by the Star League to defend the Frontier against Xur and the Ko-Dan Armada."
In fact, the main character of this film also lives in a motor home camp as Wade does.