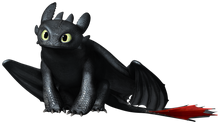 Toothless' is Hiccup Horrendous Haddock III's dragon and deuteragonist in the How to Train Your Dragon franchise.
Unlike his book counterpart, Toothless is a Night Fury, arguably the rarest and most intelligent of dragon species. He is the quintessential dragon in the series, and remains unrivalled in intelligence. He is presumed to be the only living Night Fury, at least on Berk and the recorded Archipelago.
Having initially been shot down by Hiccup during a dragon raid during the events of How to Train Your Dragon, Toothless was nursed back to flying condition and became the Viking's best friend through their interactions and adventures. Following How to Train Your Dragon 2, Toothless is now a Titan Wing Night Fury as well as the new alpha dragon of Berk.
Appearance
He and Hiccup can be both seen during the final battle.